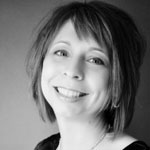 My name is Nicole, and I'm a word nerd. Have been since practically birth.
When I was three, my mom gave me her old typewriter to play with. Eventually, over the years, the garble I typed out with my chubby little toddler hands turned into actual words. And I loved it. When other kids were outside playing catch, I was writing stories. When they were cheering on the basketball team in the stands, I was copywriting commercials in my head.
But that weirdness eventually paid off. Since graduating college, writing has been my passion and my career. Over the past 20 years, I've worked as a copywriter for top St. Louis advertising agencies, as a public relations specialist for nonprofits and corporations, and as a grant writer and fund development manager for area nonprofits
Through my work, I've had the privilege of helping organizations like Scottrade, Mercedes-Benz, Chrysler, Anheuser-Busch, Coca-Cola, Touchette Regional Hospital, Jacoby Arts Center, Parents as Teachers, and the University of Missouri – St. Louis achieve their marketing goals.
Some of my accomplishments:
Wrote and coordinated fundraising appeals through traditional mail, e-mail marketing and social media
Launched and maintained social media efforts for local nonprofits
Worked with clients on integrated creative strategies, from radio ads to online marketing, to meet and exceed marketing objectives
Consulted clients on award-winning Web development and online marketing strategies that increased site traffic and generated additional sales
Obtained press coverage in print, broadcast and electronic media outlets, including The New York Times and CNN
Please check out my full resume and information on my LinkedIn profile.